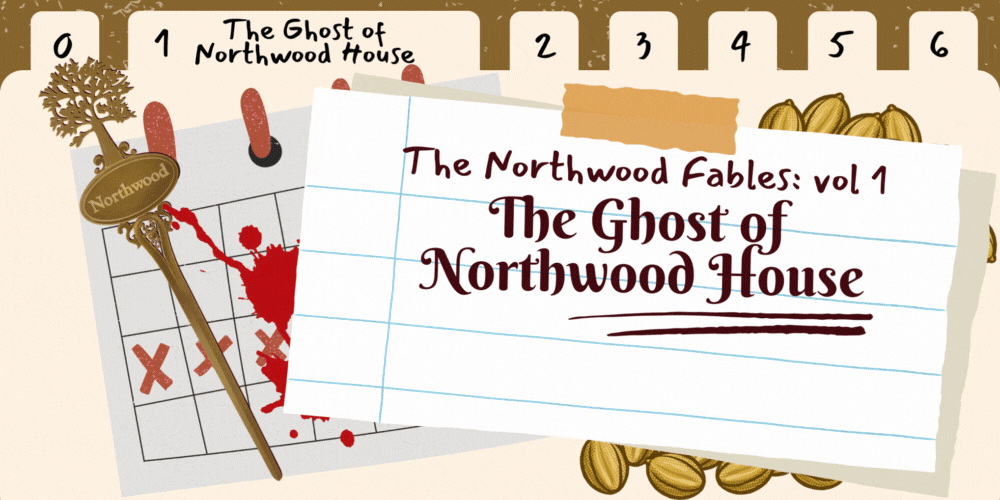 The Ghost of Northwood House
A downloadable mystery party game
Is Northwood House Haunted??
Salutations, citizens of Salchester!
After the Wytecliff family's annual harvest festival banquet at their manor, the Northwood House, Lord Remington Wytecliff was found dead in the foyer. Foul play is suspected, and so is everyone who spent the night…
This story is the first of six mythical incidents from around Salchester that I am writing about in a series of mystery party games entitled the Northwood Fables. My name is Penelope Press, and I am an acclaimed investigative journalist at the Salchester Gazette. My goal is to bring you the facts of this curious case so that we can solve these mysteries together.
To get into the minds and bellies of everyone at the scene of the crime, try our vegan recipes for Harvest Pumpkin Pancakes, Rosemary Roasted Potatoes, Minty Fruit Salad, and Shipley's Mourning Mimosas!

At a Glance
Don't worry if you've never played a mystery party game or a murder mystery game before—you don't need to memorize anything or be a roleplaying expert. All you have to do is read your character's script and try to figure out who is the culprit. No acting is required—but the more everyone gets into character, the more fun the game can be!
Each game is completely digital - just download the files, assign characters, and distribute to your players! Play in person or online! Then, once the character booklets are distributed, it's time to play! Games include three Q&A sections that are separated by scripted scenes, a prompt for players to make their accusations, and conclude with a final scripted scene.
Games are designed for 8-11 players OR for a solo player using the single player script. The pre-recorded narrator track and two pre-recorded character tracks can be used to help cover all the character roles if needed.
Download the Synopsis & Character List for a list of all of the suspects and the How to Play guide in the "Download a Demo" section below for more detailed instructions for how to play. If you want to get a feel for how mystery party games work, check out our free mini game, A Northwood House Overture.
What You Get
Gameplay Instructions
Synopsis & Character List
10 Character Booklets
1 Narrator Booklet
1 Single Player Booklet
1 Narrator Audio Track
2 Bonus Character Audio Tracks
Notes Page (coming soon)
Themed Vegan Food and Drink Recipes
Art Downloads
Before You Play
Difficulty rating (out of 5): 5
Content Warnings: death, ghosts, brief description of gore and violence, enchantments, divorce, memory loss
FAQs
What if I don't have 8-11 players? That's okay! Players can double up on parts OR you can play solo with the single player script!
How long does a typical game last? This shortened version takes around 30 minutes, the full versions take approximately 2 hours.
Do I have to play the games in the Northwood Fables in order? No! Each game is a stand alone game. However, there may be spoilers if you play out of order. Any relevant secrets revealed in an earlier game will be reviewed in subsequent games if required for plot purposes.
How much prep does the game require? Not much! You can sign up for characters ahead of time or at the beginning of your session, but everything from there is provided! It is recommended for at least one party member to look over the How to Play document before beginning.
Other Games in the Northwood Fables
0 A Northwood House Overture (mini game)
4 Much Ado About Fairies (coming soon)
5 The Bewildered Book Club (coming soon)
6 After the Fire (coming soon)
Purchase
In order to download this mystery party game you must purchase it at or above the minimum price of $10 USD. You will get access to the following files:
S1E1_Character Booklets.zip
5 MB
S1E1_Audio Tracks.zip
48 MB
S1E1_Episode Art.zip
21 MB
Exclusive content
Support this mystery party game at or above a special price point to receive something exclusive.
Community Copies
If you are unable to purchase a copy of The Ghost of Northwood House at this time but would still like to solve the mystery, select this to claim a free community copy. If you like the game, consider dropping a comment below or telling a friend!
Download demo